Use all the beautiful techniques of real gold leafing: gilding on clear, unblasted glass (called burnished gilding, which produces a gold mirror finish), gilding sandblasted surfaces (matte gilding), controlled glue chipping, gilding glue chipped surfaces, using different colors of gold leaf, variegated leaf, abalone shell inlay, more. Co-taught by guest instructor Bill Hueg (a premier gold leaf artist who has been gold leafing for over 20 years) & Ruth Dobbins. Students in this very intensive class are amazed at how much more there is to learn after the introductory gold leaf classes.
Gold Leafing on Glass: Level 3
Gold leafing techniques are not difficult to learn, but there are many techniques with lots of steps to learn and remember. There are also endless different applications and combinations of techniques. Because of this, an important part of learning gold leafing is learning to strategize a project, to understand. which techniques to do at what time during the project. This class will address the problem by helping you understand just how to plan a gold leaf project, as well as introducing more advanced techniques and concepts. Students will not only learn how to do the project, but will go through the planning stages with the instructors, doing sample pieces as they go.
The etched and gold leafed piece at right is a smaller, simpler version of the project you will complete in this class. There is etching, carving, glue chipping, burnished gilding, matte gilding, tinted sizes to color the gold, mica powders and other techniques incorporated. Very few glass artists in this country know these techniques or know the right way to organize the steps to even be able to complete the project.On this project you will do everything, from etching and glue chipping to completion. The size will be 16" x 20" and the completed piece should have a value of between $3000 and $4000 when correctly completed - a remarkable situation!
This class is for students who have prior experience with gold leafing and who have laid a few sheets of gold.This class is offered only once every two years. If you do not have gold leafing experience, you will have to take either Gold Leafing, level 1 or Gold Leafing, level 2 (preferably both). See the schedule page for details.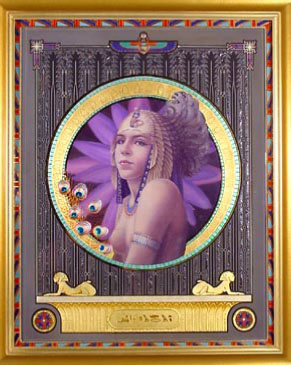 Important note about class costs: The Level 1 class fee includes all materials. The Level 3 fee DOES NOT include materials, because students can approach the project in different ways, using different amounts of materials. See the schedule page.