In the past few years, we have offered an Advanced Etching Seminar that has featured 2 days of carving, 2 days of gold leafing and 2 days of techniques for coloring etched glass. While this has been a great way for students to get an overview of the possible advanced techniques, it doesn't give the depth of instruction in any one technique that some students want. For years, former students have been asking us for advanced instruction in the techniques introduced in the Advanced Etching Seminars. We have offered this instruction on a one to one basis, but it is very expensive for students. Several years ago, we decided to offer more intensive seminar instruction in all techniques, in order to keep the cost lower, while not compromising on the quality of information and instruction.
We have now started offering in-depth seminars in both coloring techniques and in gold leafing techniques for glass. Now, we are finally able to arrange our schedule to offer an advanced glass carving seminar as well!
Abrasive carving of glass is a very time intensive technique and students cannot learn well unless they have lots of blasting time during class. This seminar features restricted enrollment, so everyone will have much more time to blast. In addition, we will have 4 blasting setups available for students, including the blast room! Students will have a choice of projects that include advanced techniques and they will also have time to really practice those techniques!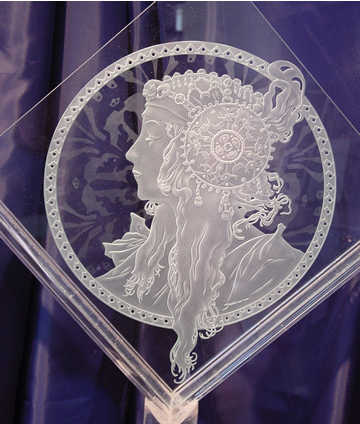 This beautiful piece was carved by Tohru Okamura, one of our advanced students from Japan. Mr Okamura's work became so good that we featured several of his pieces in our full color book, Etched Glass - Techniques & Designs.