Etched Glass - Techniques & Designs
by Norm Dobbins and Ruth Dobbins, 144 pp, hardbound, full color
Take a peek inside!
Beautiful photos
You will find beautiful full color photos of etched glass by 35 glass artists from around the world.The high quality reproduction of these photos makes this book ideal not only for those wanting to learn glass etching but also as a coffee table book for those who appreciate all types of glass art!
Thorough instructions on techniques
You will find instructions for how to etch glass with all three major methods of abrasive etching, and you will find examples of etching that is done on many different kinds of glass, from flat glass to round, like mugs, vases and other glassware. There is even instruction on how to etch with inexpensive etching cream.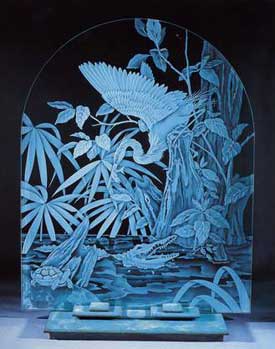 Here is one of the beautiful etchings from one of the artists featured in the book, Heather Matthews.