Announcing for the first time ever! . .
EtchMaster® Pre-cut Stencils for Stone & Tile Murals
Etching on tile and stone opens up a whole new avenue of decorative sandblasting. Tile & stone murals are a great way to add artistic interest to flooring, countertops, backsplashes, walls, gardens, patios, pavers, even framed as artwork. There's no limit to the possible architectural and decorative applications of etched tile and stone.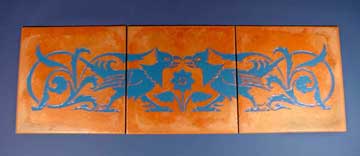 Catch on to the growing wave of interest in decorative tile and stone with The Etchmaster Tile & Stone Pre-cut Stencil Sets . These sets consist of designs pre-cut onto extra thick 25 mil resist formatted for 12" x 12" tiles. These designs are intended for etching on multiple tiles with 1/4" space for grout line. Choose from 5 popular design layouts.
Tile & Stone Stencil Sets
---