NOTE: To purchase, scroll down to the bottom of the page

Instructional DVD series: DVD Set #1
Sandblast Glass Etching
a complete 4 DVD course with patterns on disk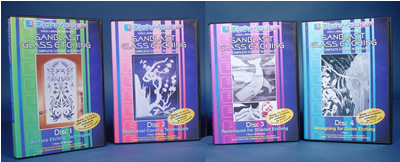 The instructional content of these DVDs is the same as our world reknowned video tapes (students in over 35 countries have learned etching from our tapes), created in the late 1980's and early 1990's. The techniques have not changed, though some of the equipment has. So, on these new DVDs, we have included over 20 minutes of new material on equipment, an introduction to Aliento Glass School, and a Gallery of beautiful etched glass.
This set of DVDs is a condensed version of our intensive 4 day Professional Glass Etching Seminar. Each DVD presents one of 3 major techniques of glass etching plus a DVD on how to design for etching and how to create special effects. There are projects on each DVD. Follow along with the DVD to learn the technique, then duplicate each project by using the project patterns provided on the CD. You will be creating your own pieces of beautiful etched glass in no time!
These DVDs will get you started right away with abrasive glass etching and you can complete projects at your own pace. Each DVD can be purchased and viewed independently of all the others, or they can be used as a complete instructional set.
Many of the people who take our intensive, hands-on seminars get the DVDs first, then take the seminar when they have a feel for the techniques and when they want individual instruction. Others, who take the seminar first (for the fastest way to learn all etching techniques), end up getting the DVDs after the class as a reference and reminder of what they learned in class. So no matter what your situation, you can't go wrong by getting started NOW with the DVDs!
Just look at the benefits of the DVDs:
Integrated navigation system, so you can instantly go to any part of the tape to review a desired technique.New footage with an overview of etching equipment created after the original tapes were made.Introduction to Aliento Glass SchoolGallery of beautiful etched glass pieces
you also get a bonus CD with over 60 etching patterns(a $19.95 value, see below)
Special bonus:
When you order any DVD or combination of DVDs, you also receive, at NO EXTRA COST , a CD of over 60 different etching patterns for etching, carving and shading. These patterns are in PDF (Adobe Acrobat format), so you can print these patterns in any size your printer supports. For large patterns, your printer can print several smaller pages that can be taped together. Note: Patterns are for your personal use. Commercial use requires special arrangements. Limit one CD per customer. (You can order this CD separately for $19.95.)
For more information on what instruction is contained in each DVD, click on the links here or on the product code links below.
DVD #1: Surface Etching Techniques
Surface etching techniques, equipment, materials, safety, 4 projects
DVD# 2: Multi-level Carving
Single stage, two stage and multi-stage carving, equipment, materials, safety, 4 projects
DVD# 3: Multi-stage Shading
Multi-stage shading techniques, equipment, materials, safety, 4 projects
DVD# 4: Designing for Glass Etching
Locating or drawing designs for etching, getting designs from photos, how to combine techniques, how to gluechip glass, and special etching effects, one major project
Get the DVD - and the BOOK, too!
For even more solid reinforcement, plus over 90 additional etching patterns, our book Glass Etching: Surface Techniques and Designs, can be used in conjunction with DVD #1 on surface etching. Our book Glass Etching 2: Carving Techniques & Designs (with over 70 patterns) can be used with DVD #2 to learn carving techniques. If you are just starting out, don't miss the discussion of glass etching equipment on DVD #1 and in the surface etching book. It can save you lots of money and disappointment by keeping you from purchasing the wrong equipment. Click the links below to find out more about each DVD and to order!
---