See Seminar Schedule
To sign up for this seminar and to choose the dates you want to attend, please click on the linked code number below.
If you have no etching experience and want to learn all the glass etching techniques, here is where you start! Even many people who have been surface etching for years (but no carving or shading) start here. The Professional Glass Etching Seminar is an intensive 4-day hands-on class covering all three major abrasive etching techniques. This includes surface etching, multi-stage carving, and multi-stage shading. Complete up to 10 projects in this exciting class and learn all about glass etching equipment. In addition, this class covers special techniques and tricks-of-the-trade like controlled glue-chipping, use of photo-resists and use of pre-cut resists.

You won't believe what you can learn in an intensive class like this. Enrollment is limited to a maximum of 4. Students have access to 2 blasters and cabinets for maximum time practicing techniques!

No prior experience is required to take the class, since it starts from the basics. However, the class quickly progresses beyond beginner techniques into the more advanced techniques on the first day. If you have already been etching glass for several years, but have not yet mastered the multi-stage techniques of carving and shading, this is the class for you. Each technique is presented by explanation, demonstration, then hands-on practice by participants.

The first half of the first day, we cover surface etching techniques and glass etching equipment. Students produce a surface etched piece to get comfortable with operating the equipment and to explore the surface etching process. Then, we start with basic multi-stage glass carving techniques on a sample project. The second day is spent completing a more elaborate multi-stage carving, and students prepare the piece for glue chipping a border on the third day. During the second day, we introduce etching on mirror and etching on special kinds of stained glass, like iridized glass.

This class really gives you an overview - not just of the techniques, but a good idea of all the many different applications there are for etching.

On the third day, students start the process of controlled glue chipping to create glue chipped elements throughout their carved project. Primary concentration on the third day is the introduction to the multi-stage shading process, with a sample project. On the last day, use of photo resist and pre-cut resist is introduced. Several projects are completed with these special resists, and there is a thorough discussion of pricing and marketing of etched lass for those interested in selling their work.

Knowledge of pre-cut and photo resists not only teaches students how to complete valuable projects much faster, it also shows how to get extremely complex designs etched quickly and accurately.

Many slides of beautiful etched glass from artists around the world are shown throughout the class. Students receive full notebooks of reference material and articles and all materials and supplies for class projects are included. If you are interested in learning etching, don't miss this great class! (To see photos of some of the many projects completed in recent classes, go to the NEWS page of this site, then check out Seminar News!)


Students are usually hard at work on their first project by mid-morning of the first day.


Ruth Dobbins explains how to number a project for multi-stage carving using a blowup of a project students are about to start working on.


Norm explains how to finish off a multi-stage shading project. Each student receives individual coaching and critiques.
Class Projects

Multi-stage carving with gluechipped background, by Ron!

Surface etching on window glass
Sample multi-stage carving
Larger carving on beveled glass
Gluechipping project with carved design
Mirror
Specialty glass (iridized, etc.)
Sample multi-stage shading
2-3 projects using photo resist

Gluechipping is a great technique to combine with etching, because the techniques are visually complimentary and because you have to etch the glass surface before you can chip it.
Class of June 12, 2002 - A real fish story
Every once in a while during class we have time for a little fun. This time a few of the students went fishin' down at the catfish hole. Of course, in New Mexico, you don't use a rod and reel, you pull 'em out with a pickup truck, and now you can see why! (and if you don't believe that, maybe you would believe this is a sculpture in the 10 acre Shidoni Bronze Foundry and outdoor sculpture garden, visited on a class field trip . . .)

. . . and we do occasionally eat!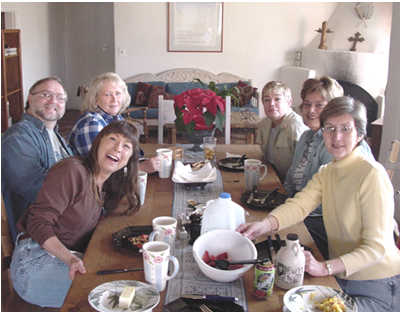 Class of April 6, 2002
Even though learning is a lot of fun, we never let it get in the way of eating! This class got along so well, we all just decided to make breakfast together at Aliento. Thanks to Danielle and Jeri, we were all well fed. (Ever have fresh strawberries coated with sour cream and rolled in brown sugar?! mmmm - thank you Danielle!!!)
Come join us
for one of these great classes!