See Seminar Schedule
To sign up for this seminar and to choose the dates you want to attend, please click on the linked code number below.

Using RapidMask(tm):
How to Etch Photographs on Glass
Dates for 2019 are currently being scheduled. Give us a call to request a date for this seminar!
Photo resist is an amazing product that allows you to etch almost any black and white design, any number of times, very quickly and easily with no hand cutting of resist. Our Photo Resist class teaches how to use 6 different types of photo resist for black and white artwork. However, it does not focus on etching photographs, since that requires a completely different approach.
This is a new seminar - one that will exclusively focus on how to etch photographs.
In this seminar, we use RapidMask, a unique form of photo resist in the market, and the only dry process resist available. It has several special advantages, including providing for etching of photos on glass. (For more info on this resist, please see our page on RapidMask, under Photo Resist, or Click here! This opens a new browser window)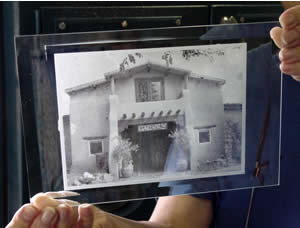 This etched photo shows the front of the Aliento Glass School.
Take this seminar and you will learn:
how to get the photos into the computer (by camera, by scanning or by online)
how to use Adobe Photoshop to manipulate the photos and prepare them for printing (cleanup, adjusting contrast, halftoning, etc.)
how to print the original artwork (what to print on, positive vs. netagive)
use of 2 different exposure systems
application of exposed resist to substrate and blasting the image (how to know when to stop, why deeper is NOT better)
the new easier removal of the RapidMask after blasting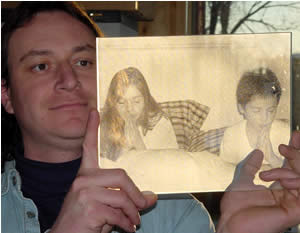 Damian, our Graphic Artist, gives instruction on how to use the Photoshop to prepare the photos for etching. Here he shows off a student project etched on a piece of beveled glass.
Computer techniques and blasting techniques thoroughly covered!
Not only are computer techniques thoroughly covered in this class, blasting techniques will also be thoroughly covered. There is a definite skill involved in etching halftones. Students will complete a number of etchings in this class, of several different sizes and on different substrates. Important note: Students must bring their own laptop computers to class, with Adobe Photoshop software installed, or should contact us for computer rental arrangements.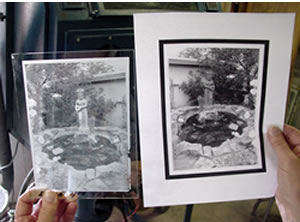 On the right is the computer printout of a fountain after being converted to a "halftone", while on the left it the piece of etched glass made from it.



This student project shows a photo of a favorite dog etched on the back of a piece of mirror.

There is a big potential market out there for etched photos, don't miss this class!
Sign up now!