We'll help you learn to etch glass!
We help people get started in glass etching and get good at it, and we can help you!. We can also help you with advanced techniques, and even if you want to start a glass etching business. Whether you are interested in glass etching as a hobby or as a career, we can help.
We can help you learn glass etching . . .
As a hobby, just for the satisfaction of it!
As a part time business, to supplement income.
As a full time business, for fun AND profit!
and many exciting related techniques, too!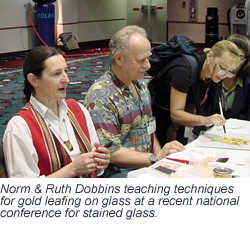 How we can help:
How-to Books
Instructional Videos
Intensive, hands-on Seminars
Personalized consulting
Innovative and unique products to make your glass etching easier, like pre-cut etching stencils
Glass etching equipment - designed BY glass etchers, FOR glass etchers!
Glass etching blanks of beautiful crystal clear, jade and crystal glass
A new line of EtchMaster(R) etching products, including photo resist, regular resist, lighted display bases, stencil knives, and more
This website is designed to tell you about etching, to show you our products and hopefully to get you started in one of the most rewarding activities you can imagine.
Doing glass etching will give you the most fun you will ever have creating something beautiful!
Our goal is to provide information, training services and products that will help people get involved with glass etching, for fun or for profit!
About Us
Professional Glass Consultants / EtchMaster(R) is a unique company operated by Norm & Ruth Dobbins. It is the only company in the world dedicated to teaching others all beginning to professional techniques for abrasive glass etching.The Dobbins' have been involved in the art glass business for nearly 30 years. They have had extensive experience with glass etching, stained glass, fused and slumped glass and have operated several glass businesses in the US and in Europe.
Norm & Ruth have published 4 books and 6 videos on glass etching techniques that have been purchased by glass etching artists from all over the world. They have authored dozens of articles in trade magazines and have taught their techniques in intensive, professional level seminars throughout the U.S. and in Canada, England, Italy, Germany, Switzerland, Holland and the Dominican Republic. Their students have come from all 50 states and over 30 countries, including Australia, Japan, Peru, Mexico, Canada, many European countries, Egypt, South Africa and more. In their capacity as consultants they have worked with some of the largest companies in the glass etching business as well as some of the smallest. They have helped beginners get started in the etching business and established companies start new product lines.
Norm founded the first sandblast equipment business in the world dedicated exclusively to developing and supplying this type of equipment to glass artists. Almost all the blasting equipment now being made for glass is copied from or derived from Norm's original equipment. Norm & Ruth have had a great deal of experience in this business and are willing to share their knowledge through their books, videos, seminars and consulting. They have added a new line of etching supplies and tools on this website that will help you get started. Recently, they have gotten back into the business of manufacturing and selling a complete line of etching equipment. For complete information on Norm & Ruth, please click here or on the Who are we? page of the new Understanding Glass Etching section of this site.
Besides the instructional business, the Dobbins' maintain a full scale etching studio in Santa Fe, New Mexico, where they etch everything from crystal awards and corporate gifts to signs to architectural glass. They have a line of pre-cut glass etching stencils brand named EtchMaster(R), and they are operating a glass school with bed and breakfast style accomodations on 10 acres south of Santa Fe. They are planning a gallery/showroom at the same location. Enjoy the site!